The new bowtie6 v2.4 is finally here…
Several years ago, after I found an almost pristine 1972 Triumph TR6 that had been in storage for a great portion of its life I decided to do something really different with it.  Restoring it back to "original" was not a viable option.  I wanted something more. Something very unique.  Something that would very fast and a first for a British car: something dependable with no oil leaks and no electrical issues.
I've seen many very impressive restorations back to the much overrated "original" condition.  The reason why this is so un-desirable to me is that in each of these "original" cars, I see their trunks full of wrenches, spare parts and "overhaul" kits.  This tells me the owners don't have 100% confidence their cars are up to snuff.  This is not for me.  I want something I can jump in and not worry about "if" I am going to get to my destination.
The first iteration called for beefing up the original TR6 frame, adding coilovers to the stock rear suspension and replacing the weak differential with something that could stand the pop from a 3.4 litre V6 from a 94 Camaro.  We used the stock BorgWarner T5 tranny and this setup offered a huge performance increase.  Not satisfied, I added a hot cam, roller rockers, larger injectors, and finally a set of fully ported an flowed heads.  This however, proved too much for the stock 10 gauge material Triumph frame:  the thing finally ripped.  GM power: 1, TR frame: 0.
Time for a serious redesign.
Repairing the stock frame was not an option.  Why spend more money on a crappy frame and equally crappy rear suspension geometry?  This is when we decided to re-design the frame and make something much stronger.  A new frame was hand-made to fit the TR6's body tub.  The front suspension was redesigned with true coilvers instead of the shocks/springs.  The rear suspension was redesigned to a solid axle with a triangulated four bar design with true coilovers.
The V6 as strong as it was, had to go.  The limitation we ran into was a lack of support for tuning of the PCM.  The V6 also ran out of breath just shy past of 5000 revs. Enter the modern 2.4 litre Ecotec twincam inline four cylinder engine with variable valve timing.  This is the engine fitted to the Pontiac Solstice/Saturn Sky.  The five speed AISIN gearbox has been retained and does this engine scream!!  Now we are talking!!
Here is a short list of the many changes made:
Fully electronic throttle.  The Ecotec employs a "fly by wire" throttle system.  This means there is not cable between the throttle body and the throttle pedal.  Instead, the throttle butterfly is 100% controlled by the ECM.
The Ecotec is all aluminium offering a much lighter package up front.
Front suspension with true coilovers.  Gone are the days of using a spring compressor and extremely "heavy" steering effort.  Front suspension now feels as if it had power steering.
The rear suspension is a much stronger solid axle, with 3.80 gear and full PosiTraction.  This thing really hooks up now and it is a very nice feeling when both tyres hook up.
Fully programmable ECM.
Tilt steering – yes, a first for a TR6!  bowtie6 now has a fully adjustable tilt steering column.
New aluminium fuel tank.  A new tank has been made with a separate staging tank containing the new high pressure fuel pump.  The new setup now offers a total capacity of approximately 15 gallons.  This yields a very serious driving range.
A completely modern, non-Lucas electrical system.
With the V6, bowtie6 made it to two major publications:  Triumph World Magazine and Auto Restorer Magazine.  In addition to this, we also took first place at the prestigious Euro Car Festival in 2009 on the grounds of the BMW assembly plant in Greenville, South Carolina.  The V6 also provided 15,000 miles of trouble free spirited driving.
After an obscene amount of time, effort and resources I am happy to report the Ecotec engine, new frame and suspension are performing beyond my expectations.  The more I drive, the more I get this stupid grin on my face!  The engine is just so eager to rev to its 7000 RPM redline, and the wail it produces when the VVT engages is just intoxicating.  The PosiTraction is such a nice thing to have:  the rear end just hooks up and the car lunges forward with no hesitation whatsoever.  Finally the suspension is spot-on.  The coilovers are amazing and it is extremely hard to describe how light and nimble the steering input is now without those dreaded highly compresed springs.
Please don't be a stranger.  I'll be posting more updates as they become available and sure look forward to hearing about any suggestions, comments and/or questions you may have.
Regards,
bowtie6
- the road goes on forever and the party never ends…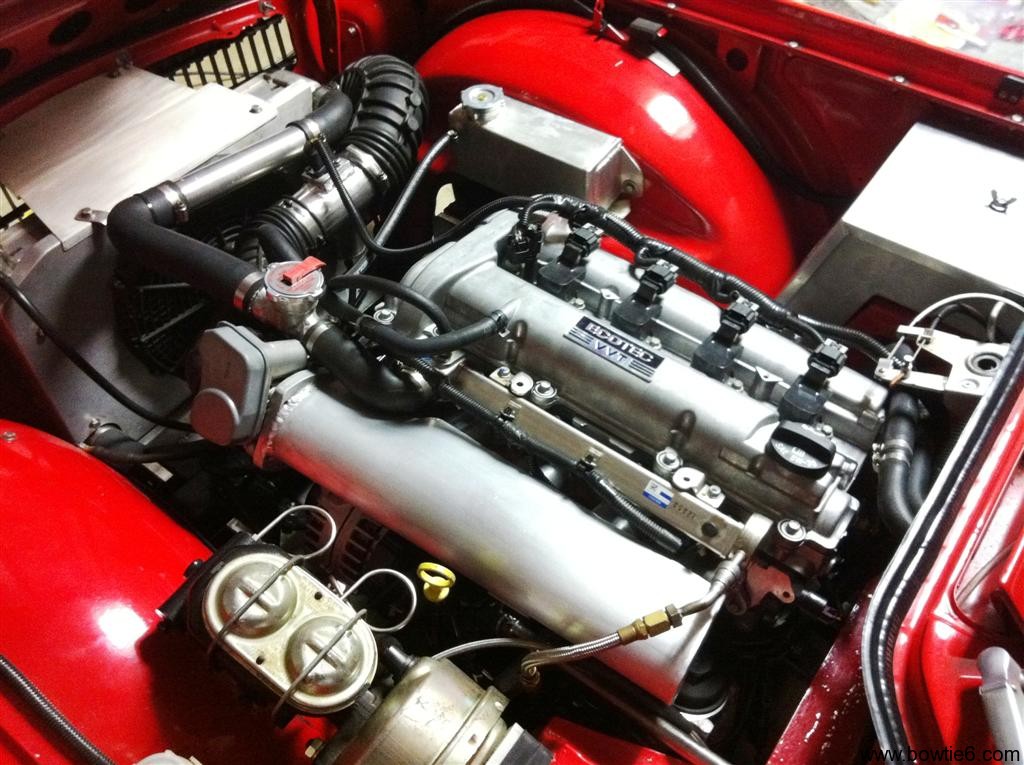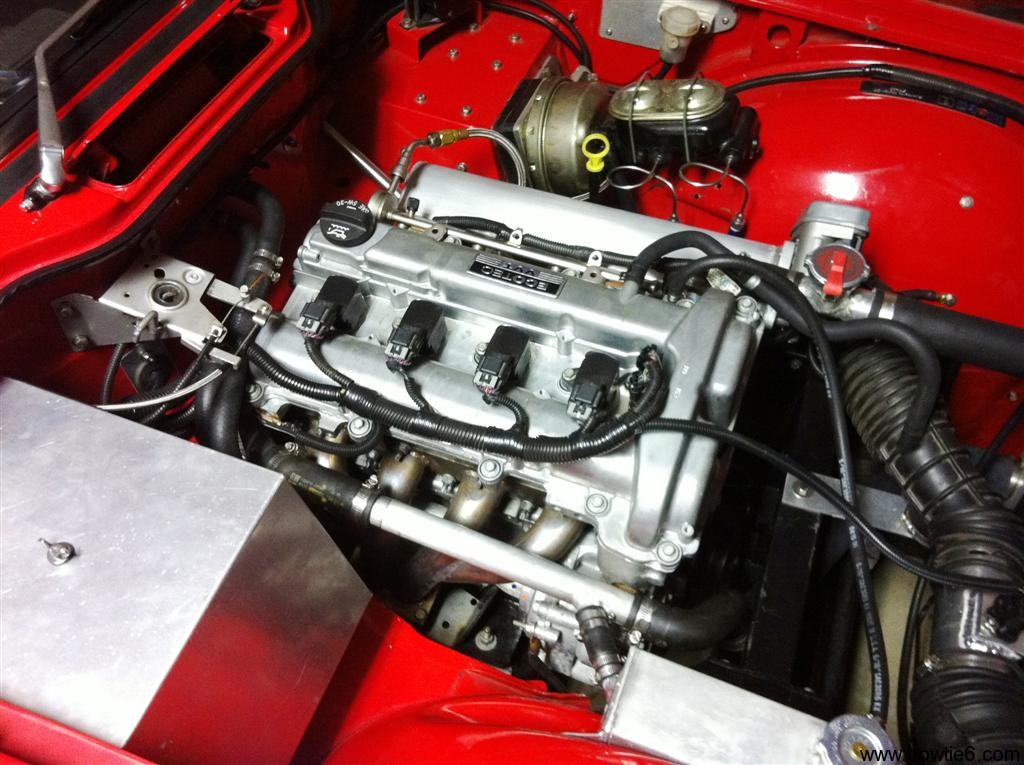 About

,